The Yarram Motor Garage has been looking after the Yarram districts vehicles for over one hundred years, offering a wide range of automotive service and repair work on all types of cars, four wheel drives and light commercial vehicles.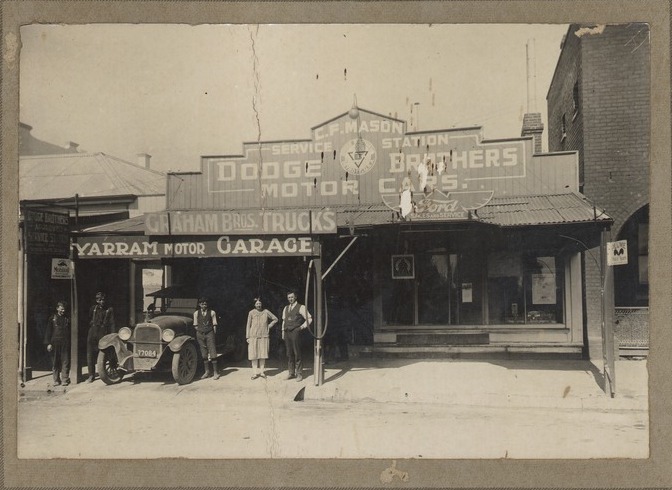 At the Yarram Motor Garage we pride ourselves on good old fashioned service, where the person you're dealing with is the one actually working on your vehicle.
Mick and Tara own and run the Yarram Motor Garage that has been looking after the Yarram districts vehcles since the early 1900's when Chris Mason began the garage as a bicycle shop. The locally owned and operated garage has seen a wide variety of vehicle franchises since then from Indian motorcycles, Peugeot cycles and cars, Fiat tractors,Dodge, Ford, Renault and Mazdas to name a few. Although the mechanics and cars may have changed over the years we like to think that the service hasn't.
Mick developed a keen interest in mechanics after moving to the country with his folks in 1993, quickly trading the city in for the freedom of country life. Exploring the hills on motor bikes and the high country by 4WD, Micks been tinkering ever since. Working at Shays Motors after school and weekends Mick has been employed in the Automotive industry since the age of 14, starting with the broom he worked his way up to secure an apprenticship at the age of 17 with Stephen and Ann Shay and hasn't looked back. After several years with the Shays Mick continued on with Allen and Kim Baggaley of Baggaley Auto and Bikes who took over the Shay Motors premises. After a few years with the Baggaleys Mick took over the Yarram Motor Garage from long time owners Leo McGlead and Noel Beagley whom he had befriended since starting out with the Shays in the earlier days.
Micks wife Tara and the young trainees Johanna & Leo "Bill" take care of the office side of things at the garage. Tara is no stranger to the industry doing almost 10 years with Toyota as parts manager she doesn't just bring a womens touch to the family business but a wealth of knowledge to keep things running smoothly.
Over 17 years later Mick and Tara are here to look after all your automotive needs.